---
Blog: Orthopaedic Medical Practices See Time Benefits Using Speech Recognition During COVID-19 Crisis
---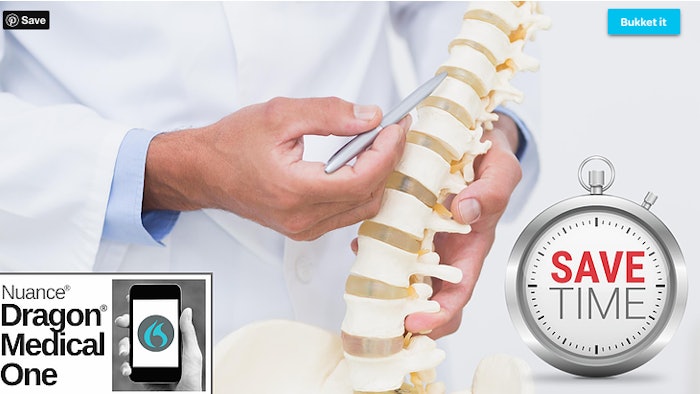 Searching for ways to save time during the current COVID-19 crisis can be a frustrating task for many health care professionals. Physicians and their supporting office staff are being pulled in so many directions that finding extra time in a busy clinician's day is often challenging. With the continued careful reopening of specialty medical offices such as orthopaedic practices, the uptick in patient office visits means more patient documentation in addition to handling COVID-19 criteria. So how can you find more time in a day to complete these tasks? Our recommendation is a review of your clinical workflow to see where we can help you implement a speech recognition solution that can save up to 2 hours a day on patient documentation.
Medical practices that have successfully implemented Nuance® Dragon® Medical One (https://www.1st-dragon.com/dragon-medical-one) are benefitting from an amazing increase in overall time-savings when using the cloud-based solution in combination with their chosen EHR. The time saved is translated into opportunity to increase practice profit by focusing those extra hours on other revenue-generating activities such as seeing more patients. Dragon Medical One users can also benefit from using the new COVID-19 Packet (https://www.1st-dragon.com/dmo-covid-july8-webinar) recently made available to help with detailing crucial patient information.
Dragon Medical One provides key benefits for practice managers looking to increase productivity and make the best use of the time available to their physician staff. A few of those benefits include:
● Single voice profile
A single voice profile means clinicians are up and running immediately across clinical workflows, care settings, devices, and apps. This seamless, consistent, and personalized voice experience across back-end, front-end, on-premise, and other cloud-based speech solutions lets clinicians easily work between desktops, mobile devices, and new tools outside of the EHR.
● Easy to use
Once installed, clinicians simply open the client app, place the cursor where they want speech-recognized text to appear, and start dictating their orthopaedic patient notes directly into their EHR.
● Designed with virtualization in mind
Dragon Medical One is deployed through your Virtual Desktop Infrastructure (VDI), as a virtual app, or installed on any local workstation or laptop in just minutes without the need for complex configurations.
● Automatic updates
Automatic updates mean less work for your IT staff, time saved for your staff, and less hassle for your clinicians - the NEW COVID-19 Packet was a recent update rolled out this Spring to help physicians document a more detailed note when conducting patient visits.
Our team of certified Dragon Medical One technicians have a 100% success rate on deploying the time-saving speech recognition solution to thousands of physicians. Reach out to our team today to see how we can help your orthopaedic medical practice save up to 2 hours a day using Dragon Medical One!
Sales@1st-dragon.com (mailto:Sales@1st-dragon.com) | 866-977-3324 or 877-272-8280