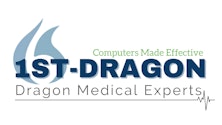 Company Details
Years in business:
22 years
Services:
Speech recognition software and HIPAA-compliant telehealth solutions

The origins of 1st-Dragon/CME began during the 1990s when we started working with earlier versions of voice recognition software. As the development of EHRs and EMRs appeared on the market, we focused our efforts on customizing Dragon Medical to compliment the workflow of each provider based on their utilization of the EHR/EMR.  We did this by bringing in seasoned professionals with EHR/EMR experience to augment our Team.
Today, we are a trusted Nuance Elite Partner with more than 22 years of experience helping thousands of health care organizations enhance their workflow using Dragon Medical. We have evolved into an organization with the experience to work with and support all practice sizes. We specialize in offering our clients a customized approach which is designed specifically for their clinical workflow.
Improve Clinical Documentation Across the Continuum of Care
Why 1st-Dragon/CME? It's simple. We are different. We focus on customization and that means we will work with you to customize the best solution based on your workflow. So whether it's Dragon Medical One, Dragon Medical Practice Edition 4 or our Telehealth Solution that best suits your needs, we won't just sell you a product, we will train you on it and support it after it has been rolled out. We know it's about saving time, money and frustration. We know - It's about the relationship.
Please visit our website for more information on Dragon Medical One, our Telehealth Solution or to read the latest Blog from 1st-Dragon/CME. 
Request More Information
Fill out the form below to request more information about
1st-Dragon/CME