---
Blog: Incorporating Crucial COVID-19 Data Into Your EHR Workflow Using Nuance® Dragon® Medical One
---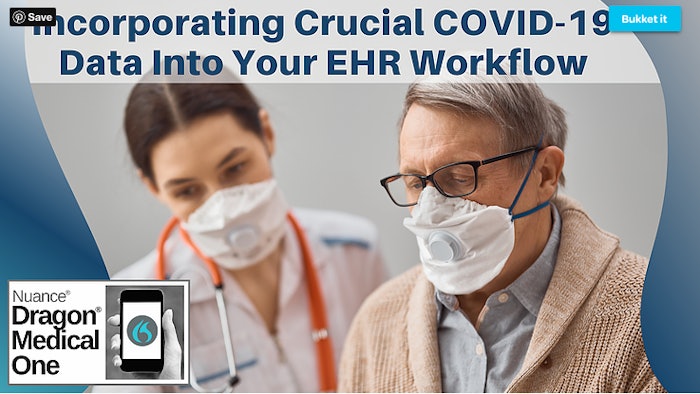 Nuance recently announced the inclusion of an EHR-agnostic COVID-19 template pack for use with Dragon Medical One. Our webinar will focus on the most efficient and productive ways to use these templates inside of the HITRUST CSF certified cloud solution, Dragon Medical One (https://www.1st-dragon.com/dragon-medical-one). We will show you how to effectively use these templates within your clinical workflows, to ensure your physicians and clinicians are capturing the most detailed data as it relates to COVID-19.
The development of these EHR-agnostic templates comes on the heels of the reopening of most medical practices across the country. Independent medical practices using the Dragon Medical One speech recognition solution will be able to enter a richer patient note by speaking rather than typing, which saves physicians up to 2 hours a day in completing patient documentation. With the launch of the COVID-19 packs, practices can ensure they are compliant with the CDC and AHIMA Guidelines for coding and reporting.
Make sure to REGISTER (mailto:[email protected]) for our upcoming webinar and SUBSCRIBE (https://lp.constantcontactpages.com/su/6IxBl2a) to our mailing list to stay informed of all the latest 1st-Dragon/CME news, events and webinars. For more information or to speak with one of our solution specialists, please reach out via the contact details below.
[email protected] (mailto:[email protected]) | 866-977-3324 | 877-272-8280