---
Blog: Utilize Mobile Devices With Nuance® Dragon® Medical One for Contact-lite Documentation Process
---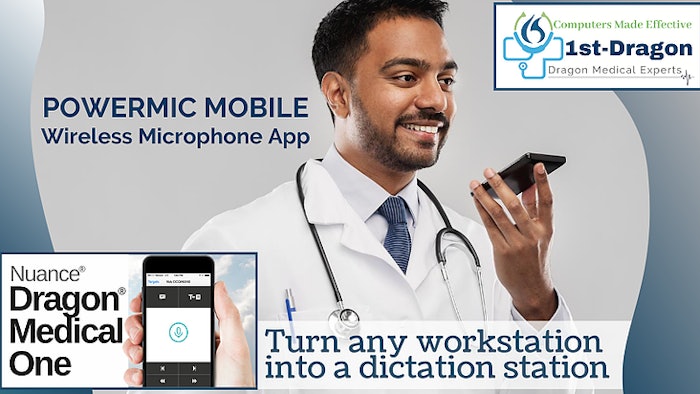 As we continue to adjust to the changes brought on by the pandemic, medical practices are dealing with the abundance of guidelines for a safe and successful reopening. Putting additional steps and guidelines in place to mitigate unnecessary contact certainly ensures your patients are being treated in a safe environment, but how do these additional procedures affect your overall office productivity?
One of the issues our team is tasked with is finding solutions to keep medical practices running efficiently by saving time in the documentation process. Most private medical practices in the US have implemented an EHR in their clinical workflow, which does assist in getting and keeping your practice organized. The majority of our clients are currently using the AI-powered cloud-based speech recognition solution, Dragon Medical One (https://www.1st-dragon.com/dragon-medical-one) which complements the EHR and makes the documentation process even more efficient by using your voice instead of typing. Adding speech recognition to your clinical workflow saves up to 2 hours a day on patient documentation. But what about the additional time required after adding in safety protocols and minimal contact procedures that most offices have put in place? Now, finding a way to save time documenting patient encounters while maintaining minimal contact becomes vital to overall office productivity.
Consider leveraging the available wired and wireless device technology that are recommended for use with Dragon Medical One, PowerMic Mobile and PowerMic III (https://www.1st-dragon.com/powermic-mobile). With PowerMic Mobile, a physician has the ability to use their own smartphone as a wireless mic to speak directly into the EHR for a quality patient documentation capture. Using their own phone provides a contact-lite environment, as device contact with other clinicians is not needed.
● Greater clinician mobility - Clinicians can complete their patient notes at any available workstation, as soon as they meet with each patient
● Automatic workstation pairing - PowerMic Mobile offers several intuitive mechanisms for pairing mobile devices with target applications, including Windows Login ID, Nuance Application Username, or token-based pairing
● User programmable buttons - PowerMic Mobile makes dictation easier and faster with programmable on-screen buttons to control audio capture, navigate templates, and effortlessly move through clinical documents for review and editing
● Application is compatible with iOS® and Android via the App Store and Google Play Store
Another option to document your patient visits with limited contact is by using a PowerMic III, which is our recommended wired microphone for use with Dragon Medical One. PowerMic III* is the ideal choice for workstations that are Dragon Medical dedicated, where you can control who uses the equipment. It combines a robust, ergonomic USB microphone with full-function, PC-mouse capabilities to avoid constant switching from microphone to mouse to keyboard.
● USB connectivity - for easy plug and-play installation as well as eliminating the need for sound card-enabled PCs
● Unidirectional microphone - with noise-cancellation ensures higher accuracy in even the noisiest environments
● Supports - individual clinician preferences and workflows
*Follow the recommended manufacturing guidelines (https://73676119-77b0-4abf-8a34c7a191456e55.filesusr.com/ugd/356a96_225e74ff0c114688892abf4040c1b6fb.pdf?index=true) for disinfecting the PowerMic to ensure your office maintains a safe, contact-lite documentation process. Implementing this type of strategy can help your office maintain the required CDC protocols for a cleaner, safer, and contact-lite medical practice.
For more information on any of our recommended devices or solutions, please reach out to our team of solution specialists today. Not a current Dragon Medical One user? Be sure to ask about our FREE 7-day trial!
[email protected] (mailto:[email protected]) | 866-977-3324 | 877-272-8280